Shopping Cart
Your Cart is Empty
Thank you for your business!
You should be receiving an order confirmation from Paypal shortly.
Exit Shopping Cart
Get the family ready!
The Clermont County Fair
is coming
July 25 - 31
Check out the
exciting 2021 Fair Book
The Clermont County Agricultural Society and Ohio Valley Productions
would like to thank our generous sponsors for the Tracy Lawrence concert Friday, July 30th
Kramer-Myers & Werring-Dickerson Insurance
Howerton Construction
John Wood Insurance Agency
Park National Bank
Kerri Wolfangle, Comey & Shepperd Realtors
Cross Country Mortgage-Aaron Denton
https://crosscountrymortgage.com/Aaron-Denton/
Comey & Shepherd Realtors
Wolfer Farms
Werring Surveying
Clermont County Convention and Visitors Bureau
W.E. Smith Construction
DCA Certified Public Accountants
Rumpke
The Ugly Goat Social Club- Nathan Jeffries
ELECTION NOTICE
The Board of Directors of the Clermont County Agricultural Society manage the Clermont County Fair and oversee all things related to the Clermont County Fairgrounds. The fairboard is made up of representatives from every township plus 5 at-large positions that serve for 3-year terms. This year, the following positions are up for election: Stonelick, Jackson, Miami, Goshen, Monroe Townships along with one 'at-large' position.
To vote in the CCAS election, you need to be at least 21 years of age, live in Clermont Co., and buy a $35 membership ticket by Wednesday at noon on July 28, 2021. This membership will serve as your ability to vote in the annual Election on Saturday, July 31st from 11-3 in our Senior Fair Board Office.
If you are interested in running for one of the positions listed above, you must pick up a petition from the Senior Fairboard office no later than Saturday, July 24th at 4 pm and the deadline for returning is 5 pm on the same day. You must purchase a membership to be eligible to run for office and the petition must be signed by 10 other members. For the township positions, you must live within the township. All must be a resident of Clermont County.
The Fairboard office hours prior to July 25th will be posted on Facebook as well as the Fairboard Office Entrance. Outside these hours, please contact Peggy Kirk to pick up a petition. Peggy can be reached at 513-535-3966 or by email at [email protected] The office will be open Sunday, July 25th through Saturday July 31st 9am-6pm (subject to change).
Fairgrounds and website owned,
maintained and authorized by
The Clermont County Agricultural Society
2021 Membership tickets for the Clermont County Agricultural Society will be on sale from January, 2021, until Wednesday at noon of fair week. You must be a resident of Clermont County and be at least 18 years of age. Membership entitles you to voting privileges and the opportunity to run for fair board director.
Phone: 513.732.0522
Fax: 513.732.5999
Location:
1000 Locust Street
P.O. Box 369
Owensville, Ohio 45160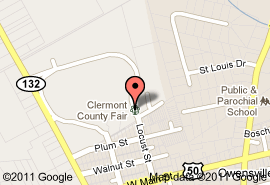 0

/